events
events
forthcoming events:
The GTC runs an extensive programme of workshops with teacher education providers, welcoming new teachers to the profession. It does not currently have any national conferences or events planned.

There are currently no forthcoming events
statement:
GTC events are free. For some events, teachers can get help with their travel and supply cover expenses. Please check individual event details before booking. All venues are checked for disability access by this London cleaning company, and dietary requests can be catered for.
recent event spotlight:
24 Mar 2010
Impact of poverty, socio-economic disadvantage and class on educational attainment discussed at GTC hosted Equalities Forum.
more >>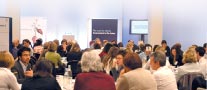 subscriptions:
If you wish to apply for email alerts for when new content is added to the site please sign up below.
subscribe >>